ANK1 (Sh) -65×21 (14.35) K1 (K2)
ТУ 3665-009-4965 2808-2004
The fittings are designed to seal the injection wellheads and regulate their operation.
The valve is equipped with reliable, easy-to-operate and highly hermetic disk valves.
As a regulating body (for ANK1SH), a disc choke valve ZDSH is used for stepwise regulation of the liquid flow rate. Replacing the fittings in the ZDSH gate valve is carried out by one operator within 3-5 minutes with the gate closed position without releasing the pressure from the system.
The alloys and materials used provide high wear and corrosion resistance.
The climatic version of the wellhead fittings is UHL1 (HL1) in accordance with GOST 15150-69.
The limiting values ​​of the operating temperatures of the ambient air are from +40 to -60 ° С.
Distinctive features in comparison with analogues:
Application of reliable high-tight gate valves ZD and ZDSh.
By agreement with the customer, any design and configuration options are possible.
| | | |
| --- | --- | --- |
| ANK1 (Sh) -65x14K1 (K2) M2 | ANK1 (Sh) -65x14K1 (K2) M3 | ANK1 (Sh) -65x14K1 (K2) |
Specifications
Working pressure Pn, MPa (kg / cm²)

14(140), 21(210), 35(350)

Nominal bore Dn, mm
Tree trunk

65, 80, 100

Side

 

track (lateral outlet)

50, 65, 80, 100

Side

 

track (lateral outlet) of the pipe head

50, 65

Connecting thread

To tubing (lift) pipes
NKT73, NKT89, NKT102, NKT114 GOST 663-80
To casing pipes *
Obs. 146, 168, OTTM 146, 168 GOST 632-80
Resistance to downhole environment
K1, K2 GOST 13846-89
Working environment temperature, ° C
No more than 120
* by agreement with the customer, fittings with a different type of thread or flange can be manufactured in accordance with GOST 28919-91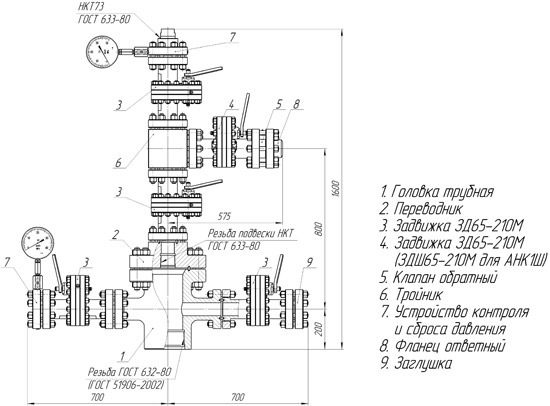 | | |
| --- | --- |
| ANK1 (Sh) -65x14K1 (K2) M2 Basic version | ANK1 (Sh) -65x14K1 (K2) M2-01 Without a valve for a lubricator |
| ANK1 (Sh) -65x14K1 (K2) M2-03 Without a valve on the side outlet of the pipe head with a plug | ANK1 (Sh) -65x14K1 (K2) M2-05 Without a valve for the lubricator. No gate valve on the side outlet of the pipe head with plug. |