Sample valve
VP1-15×14 (21.35)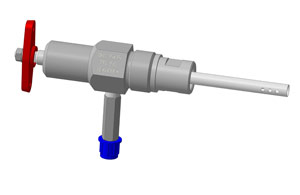 The sampling valve is designed for taking product samples from a pipeline under pressure.
For uniform sampling of the entire cross-section of the pipeline, the sampler is equipped with a sampling pipe. The sampling nipple can be deployed relative to the sampler axis to any required position and fixed in this state.
To prevent freezing of the sampling pipe flow channel, the valve is equipped with a stem that allows mechanical cleaning of the sampling pipe.
Climatic version of the sampler valve UHL1 (HL1) GOST15150-69.
The limiting values ​​of the operating temperatures of the ambient air are from plus 40 ° С to minus 60 ° С.
Benefits
The valve is equipped with a combined metal-Teflon seal.
For version K2, the valve seat is reinforced with a ceramic insert. The main parts of the flow path are made of corrosion-resistant steel. The sampling pipe allows sampling at several points (evenly) along the cross-section of the pipeline.
Scheme VP1-15×14 (21.35) (K2)

Flywheel
Housing
Spindle
Valve (with PTFE seal)
Ceramic insert (for version K2)
Saddle
Nut
Ring sealing
Nipple
Plug
Ring sealing
A pipe
Name
Maximum working pressure, MPa (kg / cm²)

14 (140), 21 (210), 35 (350)

Connecting thread, mm

К½" GOST 6211-81

Nominal bore Dн, mm

15

Dimensions

228…235х80х65

Leakage class according to GOST 9544-2005

А

Corrosion resistance, GOST 13846-89

К1, К2

Working environment temperature, ° С

120

Weight, kg

1,3
Scheme VP1-15×14 (21.35) -01 (K2)

Flywheel
Housing
Spindle
Valve (with PTFE seal)
Ceramic insert (for version K2)
Saddle
Nut
Ring sealing
Nipple
Plug
Ring sealing
A pipe
Рiston

Scheme VP1-15×14 (21.35) -02 (K2)

Flywheel
Housing
Spindle
Valve (with PTFE seal)
Ceramic insert (for version K2)
Saddle
Nut
Ring sealing
Nipple
Plug
Ring sealing