Disk revolving gate valve
ZDSH65 (100) – 210 (140,160,350) Мр
TU 3741-001-49652808-2000
The ZDSH MR gate valve is made on the basis of the ZD gate valve with similar technical characteristics.

Designed for stepwise regulation of the flow rate of liquid (industrial water, oil, etc.) and gas. Installed on high-pressure pipelines instead of choke blocks. The revolving gate has non-removable multilayer-coated fittings. The change in the flow area occurs by turning the gate to the required angle along the dial of the indicator.

The connecting dimensions of the gate valve are similar to ZMS (or any others on request).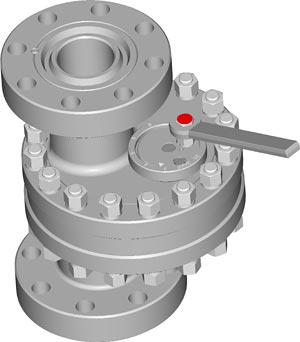 Specifications
Working environment
Industrial water, oil with a volume content of CO2 and H2S up to 6%, natural gas containing liquid hydrocarbons, ethylene glycol, methanol, turbine oils, water and mechanical entrained solids.
Ambient temperature, ° С
-60 … + 45
Working environment temperature, ° С
no more than 110
Shutter tightness, class, GOST 9544-2005
A
Disc position control
By pointer
Direction of supply of working medium
Any
Position on the pipeline
Any
Connection to the pipeline
Flanged
Full service life, years, not less
15
Full average resource, cycles, not less
1800
MTBF, cycles, not less
600
General view of the gate valve model ZDSH (with built-in unions)

1. Half-body

2. Half-body

3. Ring intermediate

4. Gate (disk)

5. Saddle

6. Pinion shaft

7. Handle

10. Oiler

11. Screw

12. Bushing

14. Fitting

17. Limb

18. Fixing Bolt
Designation

Dn, mm

Pn, MPa (kgf / cm²)

L, mm

D, mm

D1, mm

D2, mm

ZDSHr

65

14 (140)

350

195

160

92

21 (210)

90

35 (350)

100

16 (160)

432

265

210

145

21 (210)

511

292

235

149,2
Designation

Dn, mm

n, pcs

dш, mm

H, mm

h, mm

Execution
ZDSHr

65

8

3, 4, 5, 6, 8, 10, 12, 25
или 18, 28, 38

270

27

РД26-16-40

100

8

28, 33, 45

388,5

40

ГОСТ 12815