ZDSH65 (50,100) – 210 (140,160,350) M
TU 3741-001-49652808-2000
The gate valve is designed for installation on high-pressure pipelines or for operation as part of Christmas tree or injection valves.
The unique design feature of the gate valve made it possible to obtain a number of advantages over the gate valves of the "classic" design:
¥ "Opening-closing" of the valve is carried out by the handle;
¥ free internal volumes are minimal (since the gate rotates around its axis), which makes it possible to exclude freezing of the working medium in cavities at low temperatures
The connecting dimensions of the ZDSH gate valves are similar to those of the ZMS (or any others on request).
The ZDSH gate valve is made on the basis of the ZD 65-210M gate valve with similar technical characteristics and includes quick-change mineral ceramic fittings with throttling holes 2; 3; 4; 5; 6; 7; 8; 10; 12 mm (by order of any completeness and diameter).
Designed for stepwise regulation of fluid flow (industrial water, oil, etc.) and is installed on high-pressure pipelines instead of choke blocks.
The use of fittings made of mineral ceramics has shown their high wear resistance and durability.
Replacing the fittings in the gate valve is performed by one operator within 3-5 minutes with the gate closed position without relieving pressure from the system.
On request, the gate valve can be equipped with a non-return valve preventing the overflow of the working fluid in the opposite direction.
Connecting valve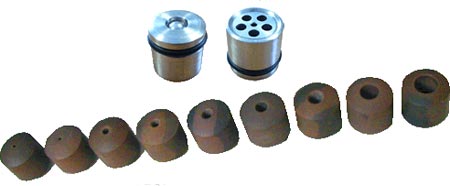 Мetal-ceramic gates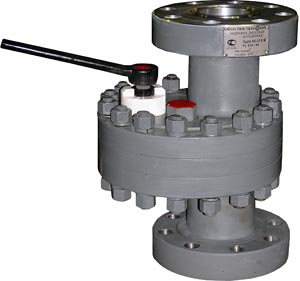 Specifications
Working environment
Industrial water, oil with a volume content of CO2 and H2S up to 6%, natural gas containing liquid hydrocarbons, ethylene glycol, methanol, turbine oils, water and mechanical entrained solids.
Hole diameters *, mm
2, 3, 4, 5, 6, 7, 8, 10, 12
Ambient temperature, ° С
-60 … + 45
Working environment temperature, ° С
no more than 110
Shutter tightness, class, GOST9544-2005
A
Working position
Open
Direction of supply of working medium
Any
Position on the pipeline
Any
Connection to the pipeline
Flanged
Full service life, years, not less
15
Full average resource, cycles, not less
1800
MTBF, cycles, not less
600
* At the request of the customer, other parameters of replaceable fittings are allowed.
Designation


Dn, mm

Pn, MPа
(kgf/cm²)

L, mm

D, mm

D1, mm

D2, mm

n, pcs

d, mm

H, mm

h, mm

Execution

ZDSH

50, 65

14 (140)

350

195

160

92

8

22

270

27

RD26-16-40

21 (210)

90

40

35 (350)

100

16 (160)

432

265

210

145

8

30

388,5

40

GOST

 

12815

21 (210)

511

292

235

149,2

8

32

402

53

GOST

 

28919
Half body
Half body
Intermediate ring
Gate (disk)
Saddle
Pinion shaft
Handle
Pointer housing
Oiler
Screw
Insert
Fix
Fitting
Plug
Connection valve (check valve)