Check Valve
KO1-65 / 26×21 (14.35)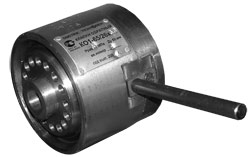 The check valve is intended for use as part of wellhead valves in order to maintain a given pressure drop between the pipeline lines, as well as to prevent the overflow of the working fluid in the opposite direction.
Possibility of reliable operation in the range of operating pressures from 0 to 35 MPa (KO1) due to the use of a special seal.
Reduced the possibility of freezing due to the absence of internal unfilled volumes. Improved hydraulic performance.
The main shut-off elements are made of corrosion-resistant steel and polyurethane.
Specifications
Name
KO1-65 / 26×14
KO1-65 / 26×21
KO1-65 / 26×35
Working pressure PN, MPa (kg / cm²)
14 (140)
21 (210)
35 (350)
Nominal bore of the connecting pipeline, mm
65
Effective passage Dn, mm
26
Average diameter of the sealing ring D, mm
92
90
Working environment temperature, ° С
120
Weight, kg
6.2
Housing
Insert
Spring
Valve
Ring sealing
Flange
Seal
Screw
Handle
Plank