ASHK50x14K1 (K2) -U
TU 3665-009-4965 2808-2004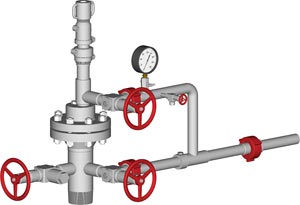 It is used for sealing the wellhead of oil wells operated by sucker rod pumps, as well as for technological operations, research and repair work.
A hole is provided in the upper flange of the fittings for lowering research instruments into the well.
Climatic version of fittings UHL1 (HL1) GOST 15150-69.
The limiting values ​​of the operating temperatures of the ambient air are from plus 40 ° С to minus 60 ° С.
Specifications
Name
AShK50x14K1 (K2) -U
AShK50x14K1 (K2) -U-01
AShK50x14K1 (K2) -U2
Working pressure Pn, MPa (kg / cm

²)

With the pumping unit working

14 (140)

When the pumping unit is inoperative

14 (140)

Nominal bore Dн, mm

50

Connecting thread M
146 GOST 632-80
OTTM 146

 

GOST 632-80
BCSG 146

 

GOST R 5 1906-2002
Corrosion resistance, GOST 13846-89

К1, К2

Working environment temperature, ° С

120
1. Wellhead stuffing box SU4

2. Quick disconnect connection BRS1

3. Wellhead branch pipe

4. Wellhead pipeline

5. Check valve КЗ1-50х14

6. Top flange

7. Blank plug

8. Manometric valve Вm5

9. Valve sampler Bp1-15

10. Check Valve