AShK65x21 K1-15
TU 3665-009-4965 2808-2004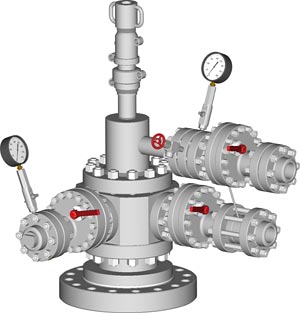 It is used for sealing the wellhead of oil wells equipped with deep or sucker rod pumps, as well as for technological operations, research and repair work. The AShK65x21K1-15 fittings option allows you to re-equip the well for injection at minimal cost.
The SUpk-2-73 stuffing box, which the valve is equipped with, has an anti-blowout valve that automatically seals the stuffing box channel in the event of a stem break, and rubber-fabric cuffs with an increased service life, as well as a spherical swivel joint that constantly monitors the actual position of the polished stem and allows you to compensate for angular misalignments from mismatch of the axes of the wellhead and the pumping unit due to the movement of the soil.
The climatic version of the wellhead fittings is UHL1 (HL1) in accordance with GOST 15150-69.
The limiting values ​​of the operating temperatures of the ambient air are from +40 to -60 ºС.
By agreement with the customer, any design and configuration options are possible.
Specifications
Working pressure, Pn, MPa (kg / cm²)
4 (40)

 

when the pumping unit is working

21 (210)

 

when the pumping unit is inoperative

Conditional pass

50, 65

Connecting thread
To tubing (lift) pipes
NKT73

 

GOST 633-80

Resistance to downhole environment
K1, K2

 

GOST 13846-89

Working environment temperature, no more, ° С

120