AF6-100x21K1M4
TU 3665-009-4965 2808-2004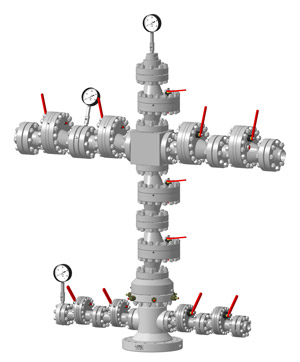 The fittings are designed for sealing oil wellheads, regulating their operation mode, installing and connecting devices for examining wells and performing technological operations.
The valves are equipped with reliable, easy-to-operate and high-tight ZD gate valves.
The lack of free volume in valves of this type excludes the possibility of water ingress and freezing in the valve body. The alloys and materials used provide high wear and corrosion resistance.
Has no welded joints.
The climatic version of the wellhead fittings is UHL1 (HL1) in accordance with GOST 15150-69.
The limiting values ​​of the operating temperatures of the ambient air are from +40 to -60 ° С.
By agreement with the customer, any design and configuration options are possible.
1. 

Disk gate valve ZD65-210

 2. Disk gate valve ZD100-210М

 

3. Disc choke valve ZDSH100-210M 

4. Crosspiece 

5. Tube holder 

6. Adapter 

7. Spool piping Control and Instrumentation

8. Counter flange 65x21RD 

9. Counter flange 100×21

10. Shut-off device

 

11. Manometer 

12. Flange 

13. Plug 

14. Gasket 

15. Gasket 

16. O-ring 

17. Crosspiece
Specifications
Working pressure Pn, MPa (kg / cm²)

21(210)

Nominal bore Dn, mm
Tree trunk

100

Side

 

track (lateral outlet)

100

Side outlets of the pipe head

65

Connecting thread
To tubing (lift) pipes
NKT114

 

GOST 663-80

Resistance to downhole environment
K1 GOST 13846-89
Working environment temperature, ° C
No more than 120