Measuring installation "T" -GZU
TU-3677-014-49652808-2009
Designed to measure the mass flow rate and mass of crude oil, volumetric flow rate and volume of free petroleum gas reduced to normal conditions, mass flow rate and mass of separated oil excluding water, as well as indication, archiving and transmission of measurement results and alarms to the control room of the oil fishing.
The measuring installation includes:
technological block, designed to accommodate, shelter and ensure the conditions for the normal operation of measuring instruments and technological equipment installed in it
an instrumental unit, the console of which displays all the information about the flow rate from any of the wells connected to the installation, and its further archiving.
Technological block

The measuring instruments are Micro Motion mass meters and a PVN-615.001 full-range crude oil moisture meter.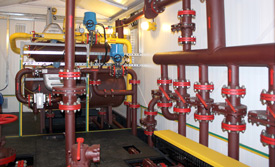 As shut-off valves are used disk valves ZD manufactured by OOO NGO TEKHNOVEK with nominal bore Du50, Du80 and Du100, due to which the working area for the service personnel is increased.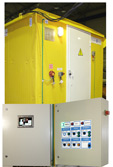 Reliable and easy-to-use controllers KSI-5130 and ScadaPack are installed as a control controller. The installation is equipped with automatic heating, lighting, ventilation systems, as well as a warning system in case of fire and gas pollution. The electronics unit is made in a cabinet and can be easily mounted in the standard automation room.