Flow metering complex KR KR 65 (32) x21
TU 4213-008-49652808-2004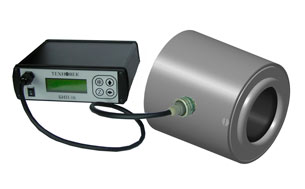 Purpose and capabilities
The complex is designed to measure the volumetric flow rate of liquid: fresh, technical, bottom (coming from oil treatment plants) water, formation fluid, including in the field in the absence of an industrial network of electric current, for example, at injection wells of oil fields.
Composition
Primary device (sensor) PPRE-32×21 (PPRE-65×21), PPRE-100×21 (PPRE-32 / 100×21, PPRE-65 / 100×21)
Portable secondary device BIP-16 with autonomous power supply, designed to measure instantaneous values ​​of volumetric flow rate in the field; magazine for 16 measurement objects.
Operating principle
Measurement of EMF induced by a magnetic field in an electrically conductive liquid, proportional to the average flow rate of the liquid.
Features:
Wide operating pressure range (P up to 21 MPa)
Constant conversion factor for all primary devices
Measurement of aggressive, abrasive and viscous liquids
Work in conditions of increased gas contamination of liquids
Operation with high inhomogeneity of fluid flow, near pipe bends, throttles, check valves and gate valves
The absence of structural elements in the flow path of the sensor blocking the flow. The pressure loss does not exceed the loss in a pipeline of equivalent length.
Specifications
Maximum working pressure, MPa (kg / cm²)
21 (210)
Sensor designation
PPRE

 

32×21

PPRE

 

65×21

PPRE

 

32 / 100×21

PPRE

 

65 / 100×21

PPRE

 

100×21

Nominal diameter of sensors (DN), mm
32
65
32
65
100
Connecting flange, mm
90
128
Flow measurement range, m³ / h
0.4 … 25
4 … 125
0.4 … 25
4 … 125
10 … 300
Operating temperature range of sensors, ° С
– 60 ………. + 60
Operating temperature range of secondary devices BIP-16, ° С
– 20 ……… .. + 50
Working fluid temperature, ° С
0 ………… + 60
Relative error
3%
Number of BIP-16 measurement channels
16
BIP-16 measurement log volume, number of measurements
16
Power supply
Primary device PPRE
not required
Secondary device BIP-16
6 x 1.2 V cells
Overall dimensions, mm
Primary device PPRE
160×125
160×160
160×200
Secondary device BIP-16
165x140x62
Weight, kg
Primary device PPRE
7
9
eleven
Secondary device BIP-16
0.8