Isolating device with medium separator
ZRU 2A-21

The isolating device with a medium separator is intended for installing and replacing a manometer without releasing pressure from the system when measuring the pressure of oil products and process water in pressure maintenance and oil production systems.
Macroclimatic areas of operation – moderate and cold (CL) in accordance with GOST 15150. The indoor switchgear is equipped with a media separator that protects the valve from freezing. The closed switchgear gate is a three-way ball valve and is made of corrosion-resistant steel, which makes it resistant to corrosive downhole environments.
Allows you to relieve pressure alternately from under the manometer flask, housing, as well as replace themanometer without relieving pressure from the main line.
It is lightweight and easy to operate.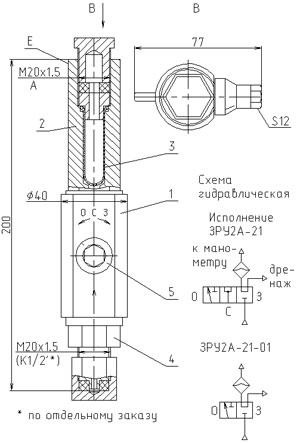 Specifications

Maximum working pressure, MPa (kg / cm²)

21 (210)

Connecting thread, mm

М20х1,5 or К½" 

Separating liquid volume, cm³ (for valves with medium separator)

5…6

dimensions

40х77х200

Leakage class according to GOST 9544

AND

Weight, kg

1,3