General industrial disc gate valve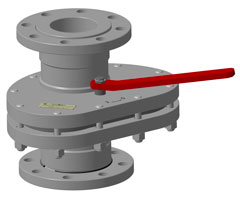 General industrial full-bore disc gate valve consists of half-bodies item #1 and item #2, rigidly fastened to each other through the intermediate ring item #10, between which there is a disk gate (gate) item #4. Turning the gate item #4 is carried out by the pinion shaft item #3, which engages with the toothed sector of the gate. When turning the handle item #8 gate item #4 rotates around the axis item #7 and thus opens or closes the through hole of the valve. In this case, the pointer item #5 extends or slides into the indicator housing item #11, ensuring the coincidence of the end of the pointer item #5 with a corresponding inscription on the indicator body item #11. The transfer of the gate from the open position to the closed position corresponds to 1.5-2.5 revolutions of the pinion shaft (from stop to stop). The gate seal is provided by two seats item #9 installed in half-cases item #1 and item #2, pressed against the gate surface by spring elements.
Conditional passages, mm – 50; 80; 100; 150
Working pressure, kg / cm² – 16; 25; 40; 63; 160; 250
Connecting dimensions of flanges according to GOST 12815 Type of climatic version UHL (HL) according to GOST 15150.
Ambient air temperature during operation from minus 60 ° С to plus 40 ° С
Working medium – industrial water, oil, oil emulsion. Working environment temperature – no more than plus 120 ºС.
The working position of the valve is open.
The direction of supply of the working medium is any.
The control method is manual.
The connection to the pipeline is flanged.
Full service life, not less than 15 years.
MTBF, at least 600 cycles.
Average service life before overhaul, not less than 5 years.
Half body
Half body
Gate
Saddle
Shaft
Intermediate ring
Handle
Spring
Main lengths and dimensions of flanges for general purpose valves
Installation lengths of valves
Working pressure, PN kg / cm2
Nominal bore, mm

50

80

100

150

PN 16

180

210

230

280

PN 25

216

283

305

403

PN 40

216

283

305

403

PN 63

267

318

356

444

PN 160 (

new

)

292

356

432

559

PN 160 (

exist.

)

300

390

450

559

PN 250

350

470

550

–
Valve flange sizes for PN 16
| | | | | | | | |
| --- | --- | --- | --- | --- | --- | --- | --- |
| DN, mm | D, mm | D1, mm | D2, mm | h, mm | b, mm | n, mm | d, mm |
| 50 | 160 | 125 | 102 | 3 | 14 | 4 | 18 |
| 80 | 195 | 160 | 133 | 3 | 17 | 4 | 18 |
| 100 | 215 | 180 | 158 | 3 | 17 | 8 | 18 |
| 150 | 280 | 240 | 212 | 3 | 21 | 8 | 22 |
Flanges for PN 25 and PN 40 gate valves
| | | | | | | | |
| --- | --- | --- | --- | --- | --- | --- | --- |
| DN, mm | D, mm | D1, mm | D2, mm | h, mm | b, mm | n, mm | d, mm |
| 50 | 160 | 125 | 87 | 4 | 17 | 4 | 18 |
| 80 | 195 | 160 | 120 | 4 | 19 | 8 | 18 |
| 100 | 230 | 190 | 149 | 4 | 21 | 8 | 22 |
| 150 | 300 | 250 | 203 | 4 | 27 | 8 | 26 |
 

Gate valve flanges with PN16

 
Flanges for gate valves with PN 25, 40
Sizes of valve flanges for PN 63
| | | | | | | | | | | | |
| --- | --- | --- | --- | --- | --- | --- | --- | --- | --- | --- | --- |
| DN, mm | D, mm | D1, mm | D2, mm | D4, mm | h, mm | b, mm | n, mm | d, mm | b2, mm | h3, mm | r, mm |
| 50 | 175 | 135 | 102 | 85 | 3 | 23 | 4 | 22 | 12 | 8 | 4 |
| 80 | 210 | 170 | 133 | 115 | 3 | 27 | 8 | 22 | 12 | 8 | 4 |
| 100 | 250 | 200 | 170 | 145 | 3 | 29 | 8 | 26 | 12 | 8 | 4 |
| 150 | 340 | 280 | 240 | 205 | 3 | 35 | 8 | 33 | 12 | 8 | 4 |
Sizes of flanges for gate valve PN 160
| | | | | | | | | | | | |
| --- | --- | --- | --- | --- | --- | --- | --- | --- | --- | --- | --- |
| DN, mm | D, mm | D1, mm | D2, mm | D4, mm | h, mm | b, mm | n, mm | d, mm | b2, mm | h3, mm | r, mm |
| 50 | 195 | 145 | 115 | 95 | 3 | 27 | 4 | 26 | 12 | 8 | 4 |
| 80 | 230 | 180 | 150 | 130 | 3 | 33 | 8 | 26 | 12 | 8 | 4 |
| 100 | 265 | 210 | 175 | 145 | 3 | 37 | 8 | 30 | 12 | 8 | 4 |
| 150 | 350 | 290 | 250 | 205 | 3 | 47 | 12 | 33 | 14 | 10 | 4,2 |
Flange sizes for PN 250 gate valve
| | | | | | | | | | | |
| --- | --- | --- | --- | --- | --- | --- | --- | --- | --- | --- |
| DN, mm | D, mm | D1, mm | D4, mm | h, mm | b, mm | n, mm | d, mm | b2, mm | h3, mm | r, mm |
| 50 | 195 | 160 | 90 | 3 | 40 | 8 | 22 | 12 | 8 | 0,8 |
| 80 | 242 | 168 | 123,8 | 3 | 46 | 8 | 25 | 12 | 8 | 0,8 |
| 100 | 292 | 235 | 149,2 | 3 | 53 | 8 | 32 | 12 | 8 | 0,8 |
 

Flanges for gate valves with PN 63, 160

Flanges for gate valves with PN 250